About Us
Our Areas of Focus
Our History
Our Board of Directors
Our Staff
Reports & Publications
Our Experts
Location Rentals/Film Shoots
---
We are a powerful association of men, women and children joined together by a shared commitment to nurturing the potential of kids, promoting healthy living and fostering a sense of social responsibility. We believe that lasting personal and social change can only come about when we all work together to invest in our kids, our health and our neighbors. That's why, at the Y, strengthening community is our cause. Every day, we work side-by-side with our neighbors throughout the five boroughs to make sure that everyone, regardless of age, income or background, has the opportunity to learn, grow and thrive.
---
FOR YOUTH DEVELOPMENT
All kids deserve the opportunity to discover who they are and what they can achieve, therefore, we focus our program delivery to NYC children and teens so they cultivate the values, skills and relationships that lead to positive behaviors, better health and enhanced educational achievement.
FOR HEALTHY LIVING
The Y enjoys the capacity and the scale to make a positive and measurable impact upon New York City's health and well-being. We recognize our unique responsibility by offering programs that encourage healthy lifestyles, bond families closer together, and strengthen connection with others.
FOR SOCIAL RESPONSIBILITY
As we have for more than 160 years, we continue to listen and respond to our communities' most critical social needs, with a focus on New York City's most vulnerable citizens and underserved populations.
---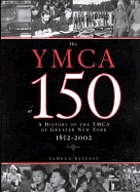 Founded in 1852, the YMCA of Greater New York has a long esteemed history. To celebrate the 150th anniversary of the YMCA in 2002, the YMCA of Greater New York published a book entitled "The YMCA at 150 - A History of the YMCA of Greater New York" by Pamela Bayless. Copies are available upon request by emailing emurphy@ymcanyc.org.
Looking for more historical information about the Y? Contact the Kautz Family YMCA Archives at the University of Minnesota.
---
Our influential board of directors is passionate about strengthening the foundations of New York City communities. View a listing of our Board of Directors.
---
Passionate. Dedicated. Nurturing. Genuine.
Senior staff at the Y work day in and day out to deliver and grow quality programs and services in communities throughout the five boroughs.
View Senior Staff Listing and Biographies
---
Want more info about the Y? Take a look at these regular publications.
---
Our experts are media trained and ready to contribute to your story or speak at your event. From bullying to break dancing to diabetes prevention to development to depression to drug addiction, the Y experts bureau is made up of thought leaders in New York City. Watch brief interviews with each of our experts to see how they shine on camera. Contact Ellen Murphy at emurphy@ymcanyc.org or 212-630-9699 to connect with a Y expert today.
Jack Lund
President &
Chief Executive Officer
Leading the largest YMCA in the U.S., Jack's career spans 35 years and includes a rich variety of top leadership roles as well as hands-on grassroots experience working with teens, families, and communities.

Gary Laermer


Senior Vice President &
Chief Development Officer
Gary is responsible for all philanthropic and charitable giving programs for the Y and was recently highlighted in Chronicle of Philanthropy, highlighting his work with donor stewardship and effective campaign management.

Lori Rose Benson


Vice President,
Healthy Lifestyles
Lori oversees all aspects of the Y's Healthy Lifestyles and Membership initiatives. In this role, she works to ensures the Y supports a broad range of fitness options and operate within and above Association standards.

Sean Andrews
Vice President,
Youth Development
Sean oversees the Y's youth development initiatives as well the international branch. Sean places a particular emphasis on program development and is always looking at new and better ways to serve the children and families of New York City.

Marty Forth
Senior Executive, Youth and Community Engagment
Marty oversees programs and services for teens and young adults ages 11-21, including College Access Programming, Teen Core Programs, Middle School After School programs, Beacon Centers and summer/camp programs for teens.

Judy Ouziel


Senior Executive Director, Strategic Initiatives
Judy directs the development of stategic initiatives for the Y, including the YMCA Diabetes Prevention Program, Activate America pathways to membership and strategies to address chronic disease prevention, youth obesity and community health.
---